Discussion Starter
·
#1
·
This was my first time at the official VBOA Rally, in the past it has clashed with too many commitments, namely work/summer hols.
I will definitely be going again.
What I like is that its something different again from the other shows we attend. PVS is Vauxhall only, but very chavvy and not much "classic". Trax is chavvy as well, but multi-marque so get to see other makes, also the track action. Combe action days are track-focused rather than show-off focused, and VBOA is a mixture of old and new, all Vauxhall, no chavs all night.. and camping in the same place as showing - genius!
So, Friday began with me at work on my night shift. Finish time - 6am. A quick email at 0250 with my handover stated that I was feeling pretty unwell and had to go home.. apologies etc. So I got up at 9am and had a decent bit of sleep and had to do all my packing and stuff on the morning... usually I've done a bit better pre-planning than this, but work didn't allow
Left at 1100 to hit Sainsbury's and the jetwash... Carlton was still filthy with mud from PVS! Got the beers in, and some extra foodstuff to help out through the weekend.
Headed off for the 2pm meet at Toddington to meet the Big Convoy. What this turned into was a cry-fest as everyone thought that the roadworks on the M25 would be too much for them. Gay. It added a whole extra 15 minutes to my journey time... which I pre-planned into my journey, so I still arrived before 2pm to meet Phil and Ayden. Cue a fairly tame convoy up to Billing, as the traffic was a bit too heavy to hoon about up there.
When we got to Billing, some people were already there. I chose to ignore the ruling of "No Sleeping In Cars" and parked my tent on the stand.. after unloading the generator and gear.
It was at this point that I received the tragic news that a friend of mine from work had been killed in Afghanistan on Thursday, and this kinda knocked me back a bit.. but I didn't want to let it affect the fun because certainly if John had been about, he'd have been having more fun than all of us... thought I'd try my best to do what he did. Thanks to the support you guys gave me, you know who you are :Cool2:
Anyway, much head/arse/**** scratching managed eventually to organise the stand, and I set about BBQing. I take the role of BBQ chef kinda by accident, but it is very enjoyable.. though very hot at the same time... I still have all my fingers though. Also, I'm glad to hear that noone has yet been killed by food poisoning. Anyone that does, I blame someone else who must have been cooking while I was on my break.
So, some people turned up who were new and exciting to meet, they had to be broken in, Kate1984 and Liam, her fella (Peter Griffin.. heheheh...) who, it was good to see, were immediately on the same wavelength as everyone else when it came to levels of smut and tone lowering.
After much beer, and burgers, and sausages, some of us decided that we wanted to go on the funfair. However, upon arriving there, in a slight drizzle, we discovered that it was closed. So, to the bar! But no, you can't walk straight from the funfair/campsite into the bar, you need your "Entertainment Pass" which you are given as you enter, but not told about, and who the hell reads the bit any further than "car park pass" which the chap tells you to keep in your window? But apparently, THEM'S THE RULES! and we can't break them..
So, we went back to the campsite, and got said passes, and headed back to the bar! Ha! Them rules were showed! We adhered and then found we had to endure bad karaoke... oh dear... still, we had a few more drinks and got quite drunk... had a bit of a dance (Jim..) and eventually headed back to camp about 1am. At this point, I must make it clear to everyone who was still back at camp that we made every effort to be whisper quiet, however I think our voices were amplified mainly by the night-air and the amount of precipitation that was nearly present. We weren't shouting.. not even Phil!
the next morning, I woke to find that it had been raining. In fact, it still was raining! I could tell as the windows in my "tent" were all wet. So I got up.. mistake.. didn't feel quite right... lots of John Smiths followed by lots of San Miguel is not a good combo. However, it appeared everyone else was still in bed.. so I snuck off to the gents and freshened up... so to speak.. and the best cure was just to sit outside and cool down. So by the time everyone else got up, I was fresh as a daisy and ready to enjoy the day!
The BBQ was re-lit, the bacon was cooked and people were coaxed from their tents in various states of well being, but a bacon sandwich works wonders!
Weather was still a bit iffy though, and so when we embarked on a reach around, sorry walk around, we didn't take coats. But then it started chucking down, we went back to collect coats, started walking again and then the sun came out.. then started raining.. a bit annoying but we worked it out in the end and off we trundled round the stands and auto jumble. Bought the best thing I've ever found.. a magnet on an aerial-pen thingy! genius! I could pick up metal things from slightly further away than before! Also, I bought a "universal fit" cone filter for HMS Marvin at a cost of £10... perfect!
Heading back to camp, and more people had turned up.. but i can't remember who turned up at what time because I didn't think to take note... I think Woko turned up with Becci, and JPS1 and Rachel..
More BBQing brought people together.. try shouting "There are 8 burgers ready now" and see how fast people run towards the supply of buns and sauce..and cheese! After lunch we had to fit the new air filter... a round filter though, does not fit onto a square Air Flow Meter aperture.. so until we can make an adapter for it, we drilled out the airbox for that rude-boy noise. It worked well as I found out on the way home. Mark donated a Cavalier strut brace as well, which needs some adjustment but will fit very well when it comes to it.. probably.
A strategic bathroom break was interrupted by a phone call from Ayden "Get over here, now! Just do it" SO I ran back to the site, to find Dougie from TV with a lovely looking young lady and a man with a camera accompanying them... they've taken some photos of the car and The Big Mabungoes for a feature in their write up of the event for next month's Total Vauxhall - look out for us!
Once the evenings BBQing had been taken care of we again headed for the fun fair and the bar... armed with our passes this time! Great! Those that stayed in camp, I'm sorry but you missed out on candy floss and 16 year olds (or lack thereof) and "The Fall Guys" -a musical duo where one guy plays guitar, the other guy sings and a backing track provides most of the music.. however I think many will agree that I supplied most of the vocals to their repertoire and should probably be the new member... I haven't got their dance moves though. More beer, more dancing and Phil nearly pulled! Mainly because the girl thought that Phil was being ****-teased by someone else who shall remain nameless...
All that dancing proved too much for some who snuck off to bed early, but walking home in the rain made us hungry, so we got back to camp and set the BBQ up, again we were completely silent in doing this, totally like the SAS in stealth mode, standing under the gazebo only getting wet because it leaks a bit.
Forgoing the "comfort" of the Carlton, I slept in the proper tent on the Saturday night, sharing Matt's, and was woken up at about half 6 to be shown some bird we had joining us in there.. win! She wasn't doing much for me though so I grabbed another 45 mins sleep
Sunday morning, I managed to melt my phone screen display when making the bacon rolls for the morning, that's how hot the bbq got... but it was fine.
Another walk round the auto jumble and still could not find any side repeaters that would fit the Carlton! But saw some nice cars still, and that makes things worth while
One last BBQ, and I had to leave about 1pm as I had another event I couldn't miss yesterday.
Thank you to everyone who showed up, it was great to meet new faces
Heath and Mrs Heath (Nicci?)
Wayne and Paul
Kate and Liam (Peter)
and see a few familiar but long-unseen faces..
Dave
JP (and Mrs JP - apologies for any uncomfortable feelings during my singing
Matt B
Steve KOTK
And all of the regulars... always a pleasure to see you guys!
A brilliant weekend, couldn't ask for much more recently! Certainly my stomach appreciated a great weekend of eating mostly processed meat and beer drinking...
OK that's a huge write up... here are just a few pics I took in between BBQs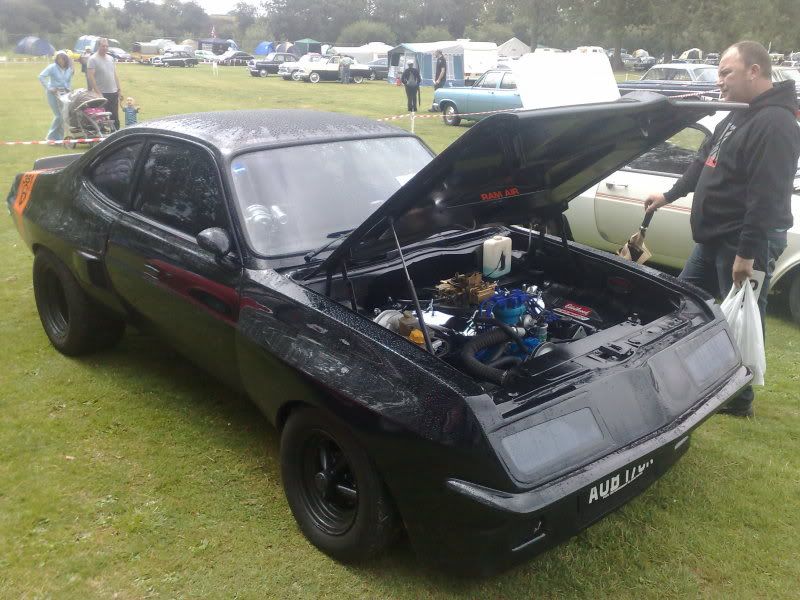 Mustang V8 in there... love the numberplate..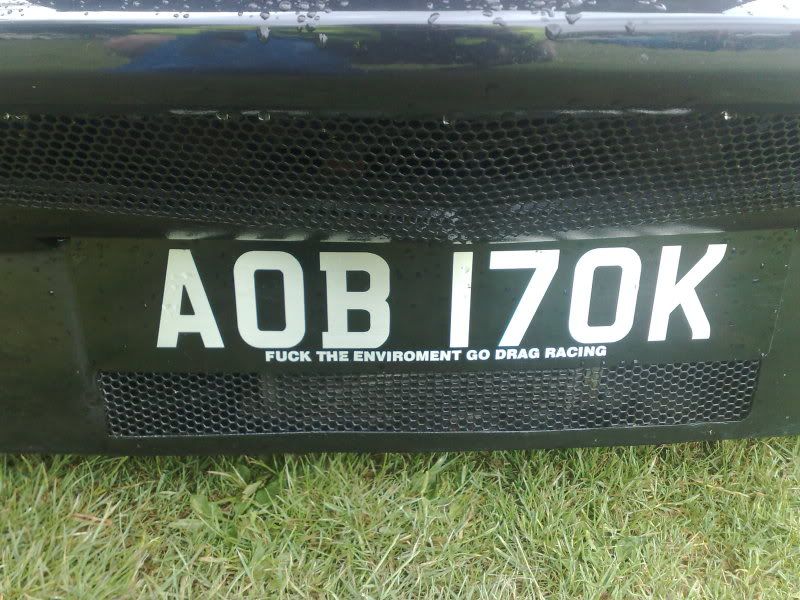 Awesome Lincoln Continental MkV Diamond Jubilee Cartier Edition... this thing was HUGE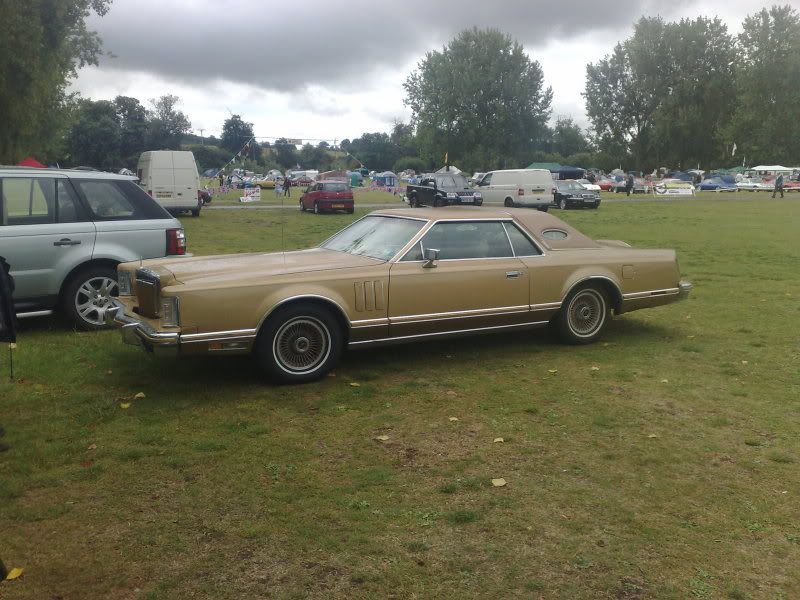 Retro-cool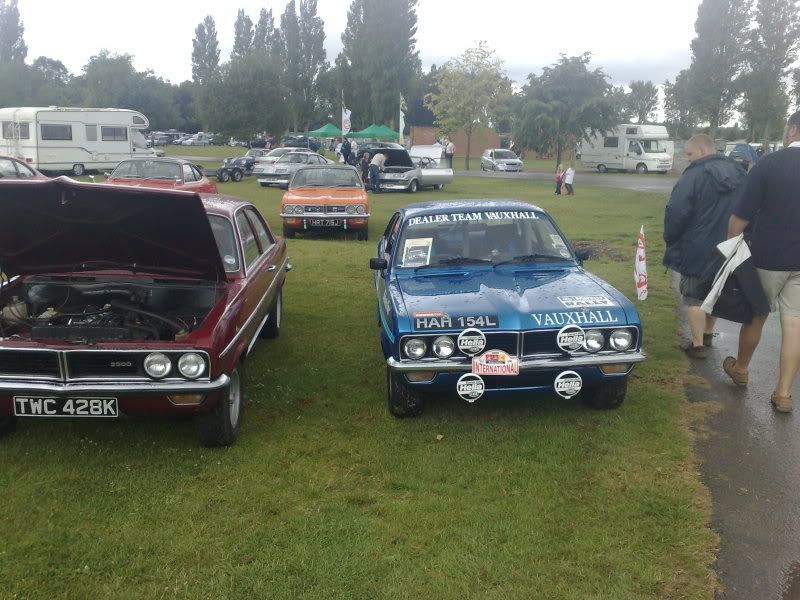 Lotus Senator..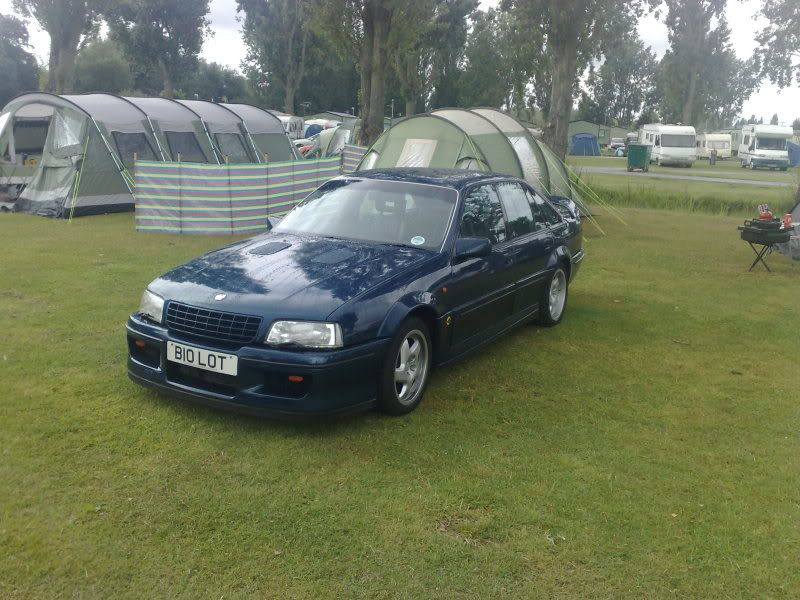 Carlton GSi with the 4-litre straight 6 Irmscher tuned engine...
Nice Monza
And a few classic trucks..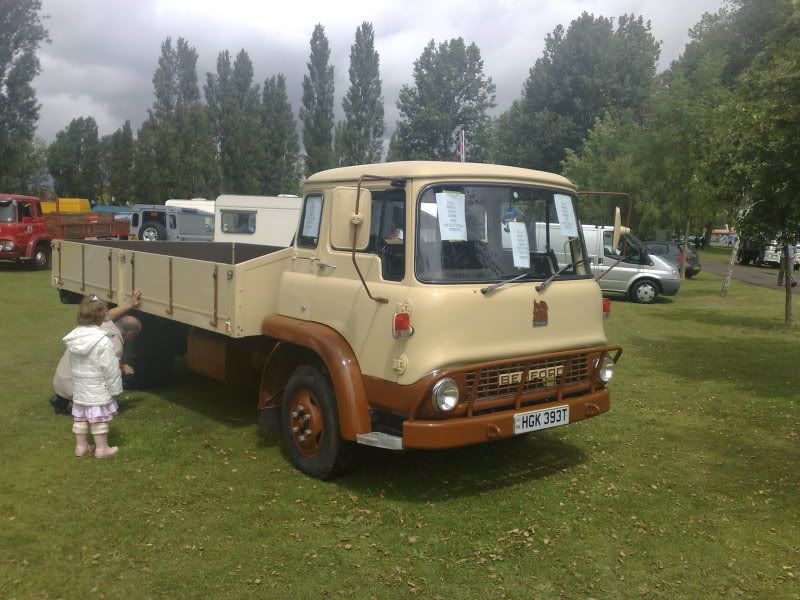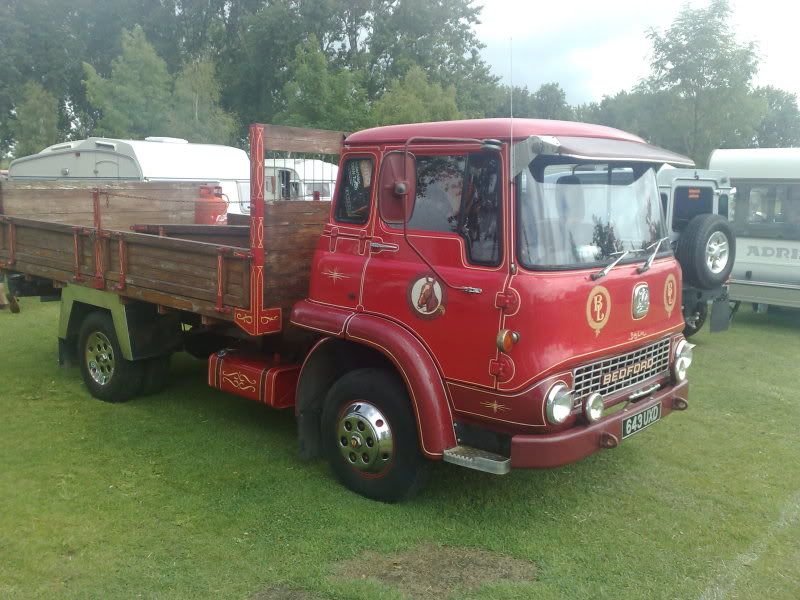 And the Carlton strut brace, held in with Gaffa tape for now... bonnet doesn't close yet though...