Discussion Starter
•
#1
•
Evening All VBOA Attendees!
@Sy
,
@Matt-SRI
,
@NathanR94
,
@NathanB95
,
@stoneshed
,
@DAWN68
,
@LukeLieng95
,
@Aydena
,
@himselfunknown
,
This year will see the return of the VBOA Photo Challenge, as it proved relatively successful last year.
Now all subjects have been decided, here is a preview for you to see what is planned;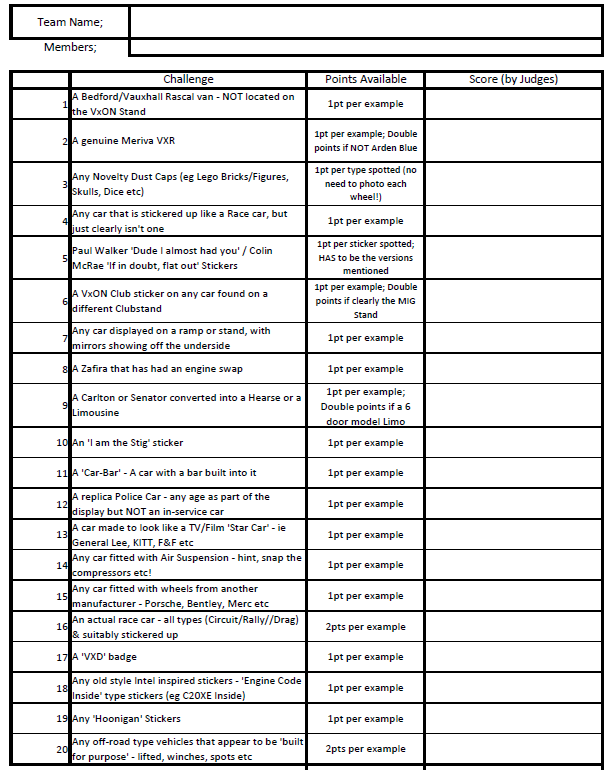 There are a number of rules & clarifications that will be provided to you alongside these on the day however, and a couple of things may be minutely tweaked prior to the weekend to make things more clear if they are a bit hazy.
A tie break question has also been devised in advance, so this will be used if there is a need to do so.
As last year, this will be run on the Saturday of the event, as that is the day that everyone is on site.
We have also put a bit more though into the Prizes this year - we have some ideas for 2nd & 3rd place, but these will be confirmed after this coming weekend once I go out and buy them...
However, the
1st Place prize
is already sorted - it will be a pair of Race Day (Sunday) tickets to one of the remaining BTCC events of 2016 - the winner will get to choose their preferred Track and the tickets will be ordered with them present at the VBOA event to be shipped directly to the winners address.
The remaining BTCC events are;
Sunday 31st July - Snetterton Circuit - Thetford, Norfolk, NR16 2JU
Sunday 14th August - Knockhill Racing Circuit - Dunfermline, Fife, Scotland, KY12 9TF
Sunday 28th August - Rockingham Motor Speedway - Corby, Northamptonshire, NN17 5AF
Sunday 18th September - Silverstone Circuit - Towcester, Northamptonshire, NN12 8TN
Sunday 2nd October - Brands Hatch Circuit - Fawkham, Longfield, Kent, DA3 8PU
Any immediate issues or queries, let us know whilst we still have time to sort things out!
We hope to see you interested in this small game over the VBOA weekend