Discussion Starter
•
#1
•
Well, what can I say, this event was to be the first major event under mine and Nick's administration, combined with an all-round good attendance considering the times, and us being joined by some friends from Belgium with very nice 'old timer' cars, it should have been a corker and one to really kick off the 2009 show season.
Unfortunately our country's weather had other ideas this year. After glorious weather in 2006, 2007, and again in 2008, we may have been due some poor show weather at PVS, and how true it was too!
The weekend for me started with me, complete with an 80% working, lowered at the back, but not at the front, 4 week Mad Dash WIP (Cavalier LS Redtop) Morph, and Woko and his girlfriend departing from Leicestershire slightly delayed on a trip down to Luton to pick up some club gear, then swinging round to meet up with the Friday Toddington convoy to Pod, the weather at this point already showing signs of what was to come. From Toddington I had the most amazing view in my mirrors of a long line of Vauxhalls and old Opels on the M1 (Minus Woko, who then realised he left his tickets at home and went back to get them!). We arrived at Pod a shade before 5pm and proceeded to set up camping HQ.
After pitching some pretty impressive tents, the beer and conversation started to flow, and everyone mingled in and enjoyed the evening. At about 9pm, the weather took a turn for the worse and started to lash it down, a trend that would continue non stop until 11am the following morning. After a night of plenty of drink and laughs with the Belgians we headed off to our tents/cars. At around 7am on the Saturday morning the rain was still coming down, and had turned the formerly dust roadways into slippery mud, which was churned up very quickly as the cars from all clubs headed to the showing area.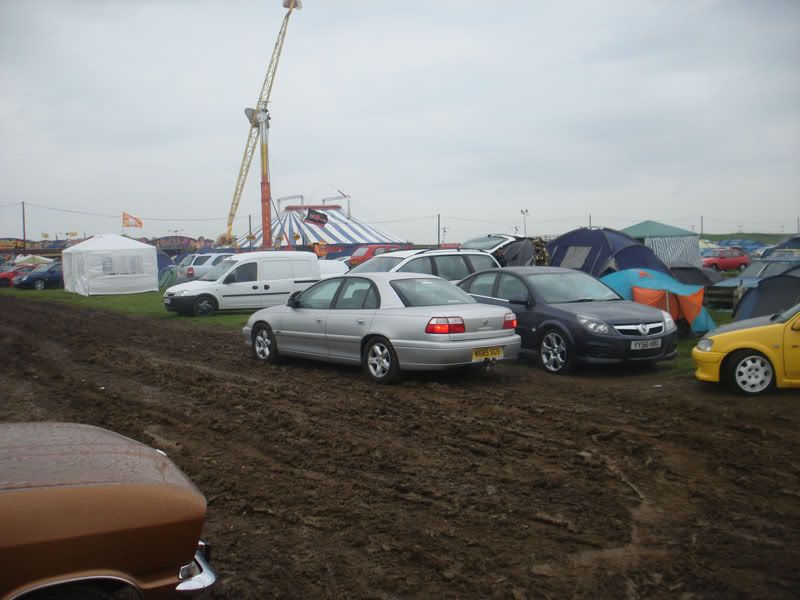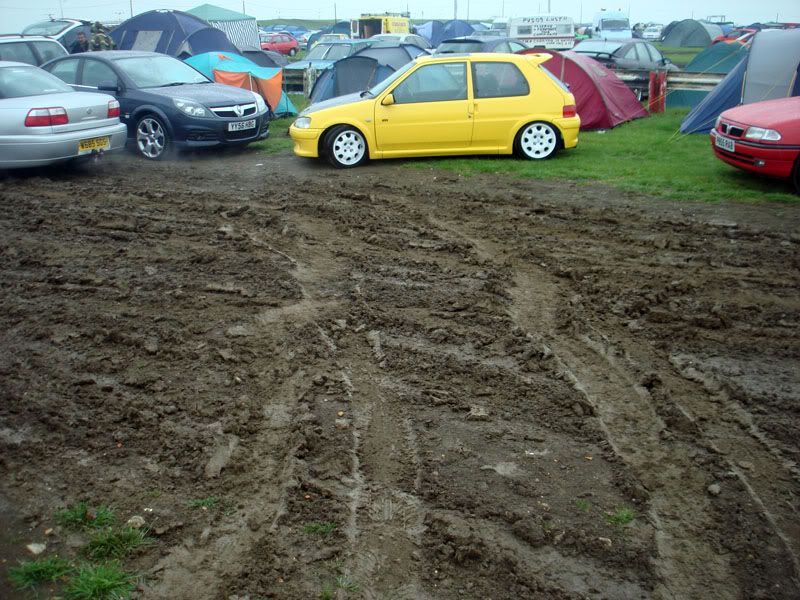 Fortunately, we met up with Nova Junkie who had towed his Nova to Pod with his 4x4, most helpfully, the man offered to tow us out of any mess we found ourselves in, and some of the cars facing towards the worst effected areas really needed it too!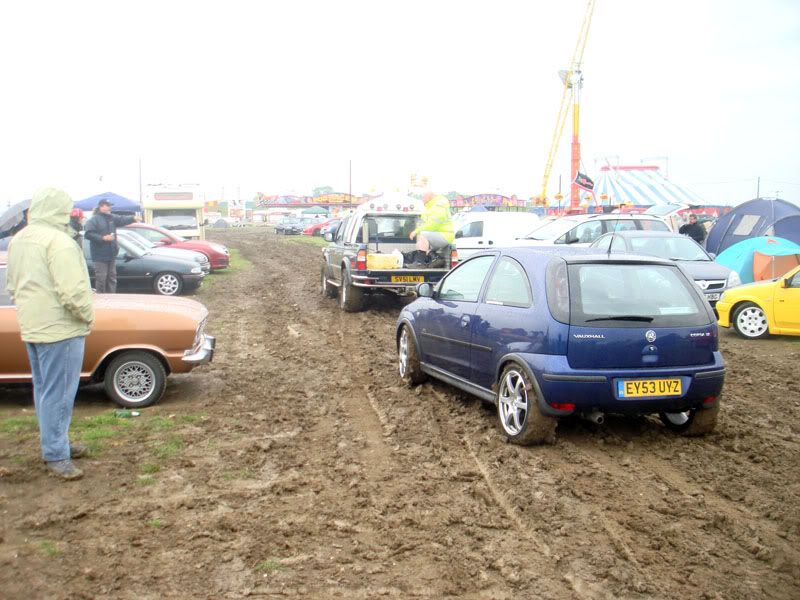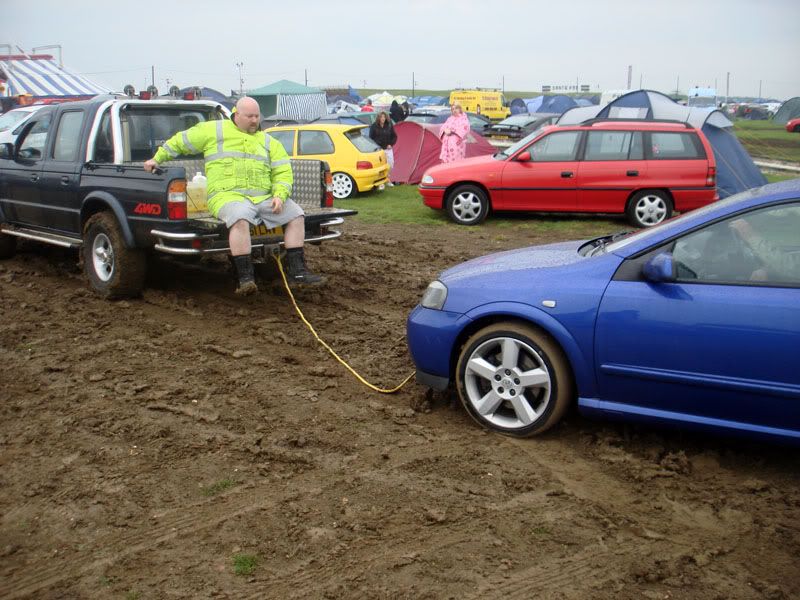 Unfortunately, the roads were so bad that some of the Belgian cars could not make it to the stand area, they were so low that they risked damage by moving over the roads, which by now were only usable for 4x4s as the rain still came down for over 12hrs :shame:
Luckily, the rain cleared up come 11am, the sun started to show through the clouds on occasion, the dragstrip began to dry, and some strip action was happening by about 2pm. Afforementioned Nova Junkie's yellow Nova, the only car I was aware of from our club which ran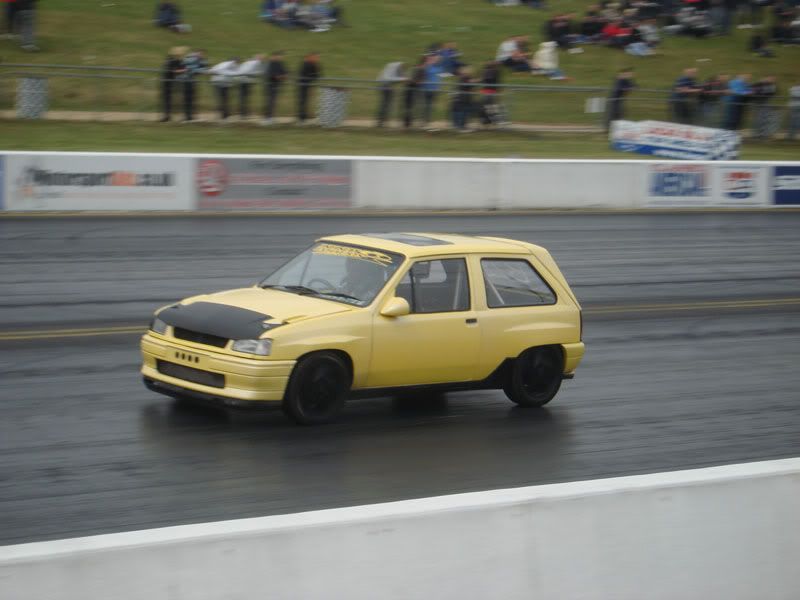 As the day went on we packed up the club stand and headed back to the camping area for another evening, by now the roads having dried out enough to be able to drive on them with care. The rain held off through the evening, and another good night was had for all in various places.
Sunday morning and we again awoke to a rainy day, and also a rather annoying discovery, as we found that one of our VxON flag poles, put up so that people joining us could find us, had been stolen! :grrr. The rain started out as light rain, but as we moved onto our stand began to absolutely lash it down, turning both the camping areas and the showing areas into sloshy bogs, instantly churned up by vehicles driving over them!
Unfortunately the Belgians had to depart at 10:30am (Sadly before the rain started to ease off) as one of their Mantas was having running problems, and they had to be at Dover by 4pm to catch their ferry home. Our stand was graced once more by Jurgen & Wim in their Kadetts who made a very valiant effort to drive through the mud and puddles to join us on our stand to say their goodbyes after packing up. It was sad to see them go, and to see a convoy of extremely nice cars not be able to be shown properly on the VxON stand, but by this point our grass stand was littered in puddles and access to it from the main tarmac area was boggy and largely inaccessible, completely unsuitable for showing purposes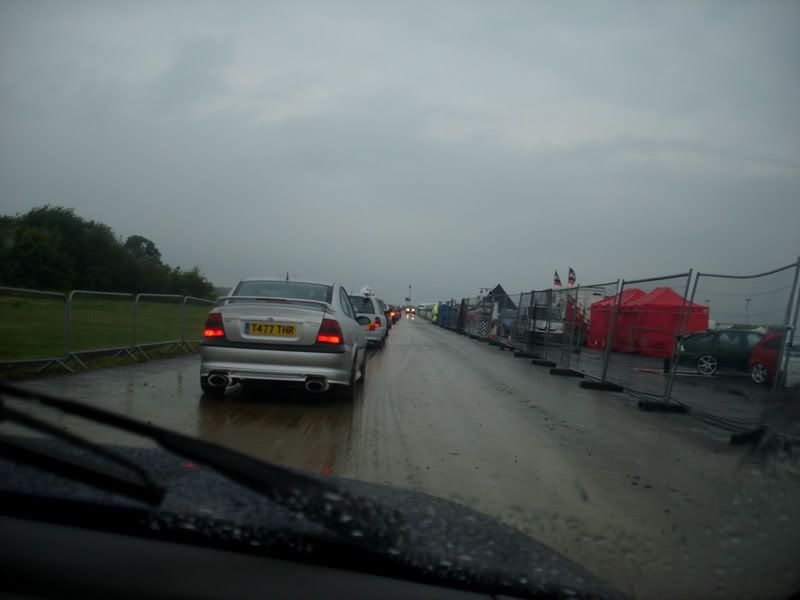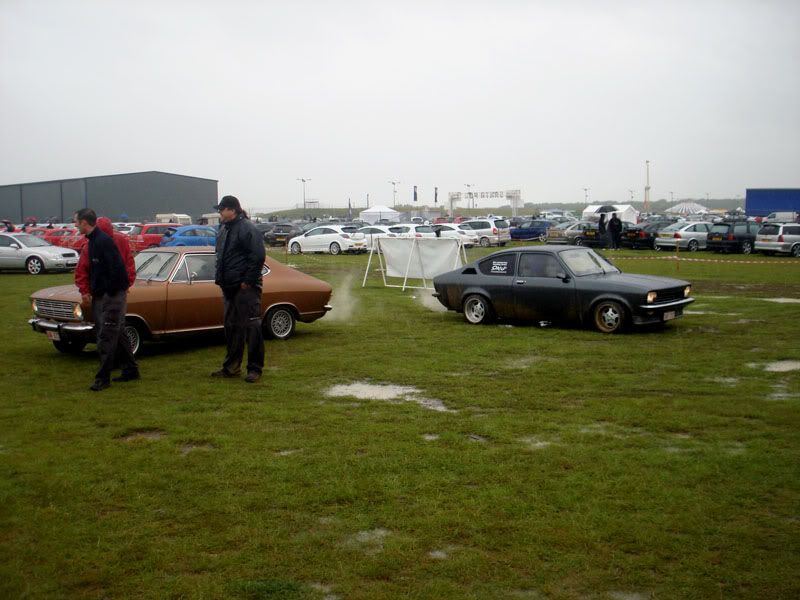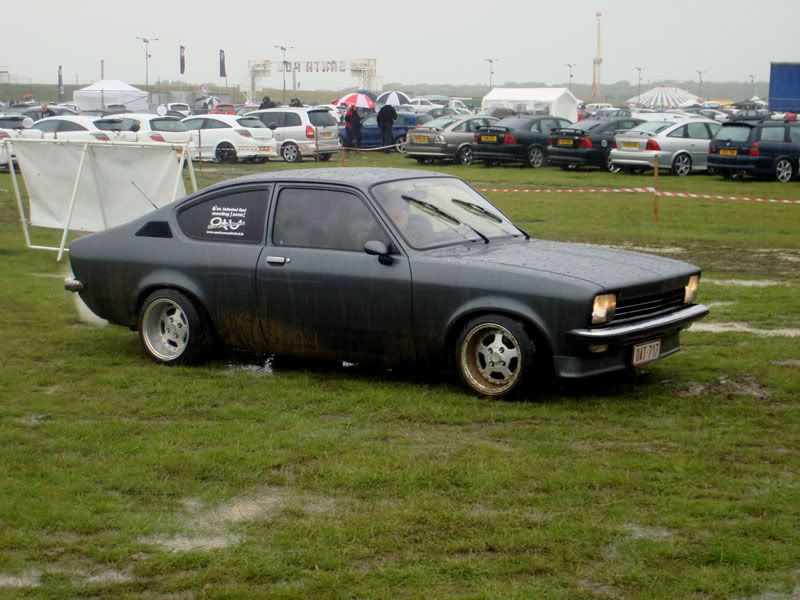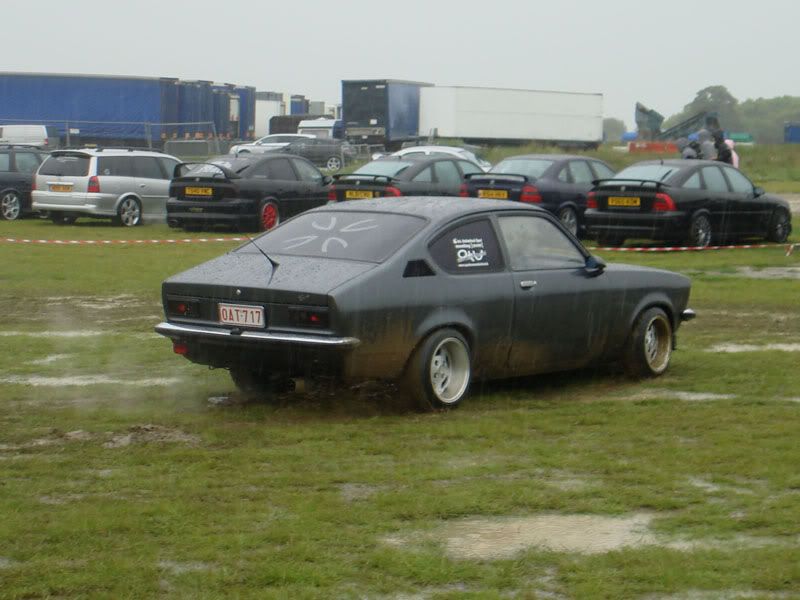 As the morning drew on past 11am the rain had started to stop, but unfortunately by this point the damage of 2 days of rain and cars driving over muddied ground with no drainage, and no hardcore laid had already been done. Most of the clubs located on grass as we were had already packed up and called it a day, even the tarmac showing area was flooded in places. As people started to call it a day too, we decided to pack up and leave, there was absolutely no possibility of showing on the ground we were on Sunday, even if we had stayed there, the area beyond the tarmac felt secluded and shut off from the rest of the show, and as mentioned access to it was poor and flooded, inaccessible is a perfectly fair reflection.
Some of us decided to stay on after the rain had cleared and the sun did come out so the strip was opened, but fro VxON there was nothing more we could do. This is what we was faced with in the camping area, and the connection between grass and tarmac areas after the rain.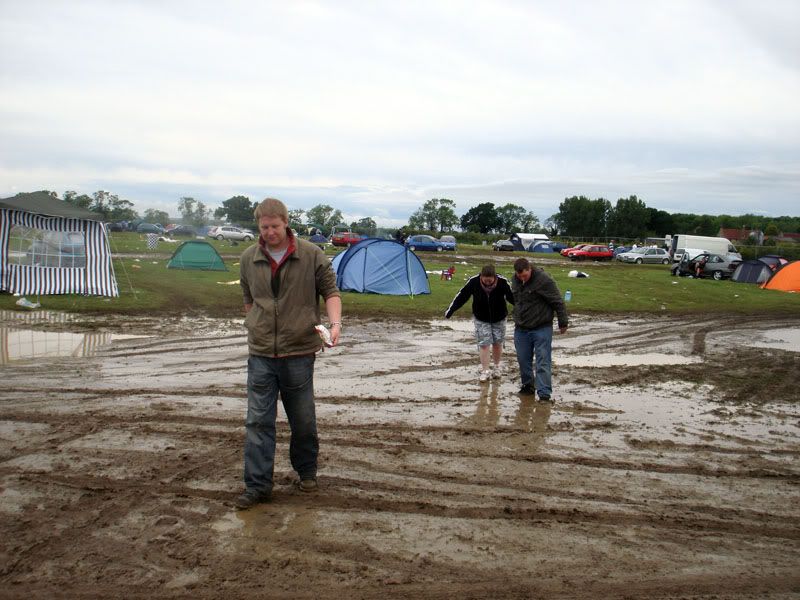 And the state of mine, and Woko's cars as we left PVS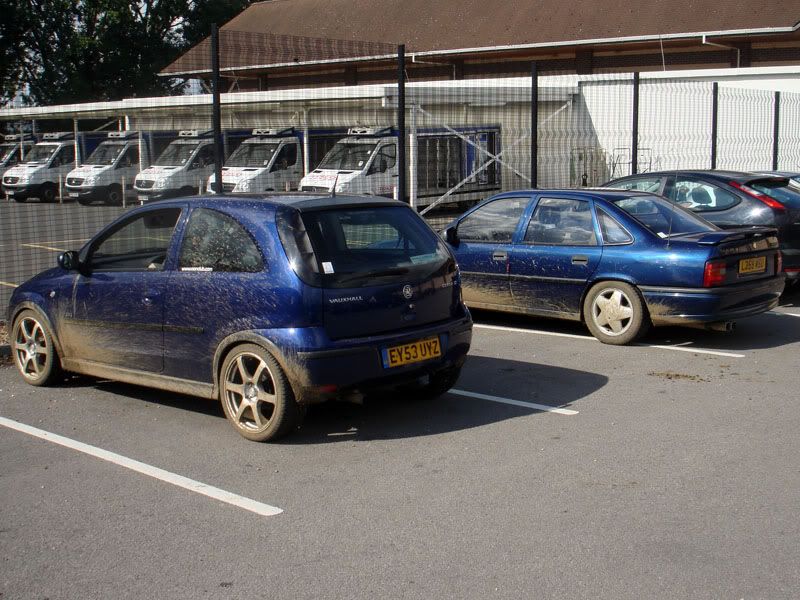 To end with, I'd firstly like to thank everyone who attended this event, your presence made what would have been a disastrous weekend into an enjoyable one if only for your company, so thankyou for persevering with it.
I'd also like to give a massive thankyou to Jurgen (bifi-otu) and the boys from Opel Team Unlimited (OTU) who made the effort to come all the way from Belgium to attend this show with us, I'm just sorry that it wasn't what it could have been, and hope that you enjoyed our company as much as we enjoyed yours. I'd like to formally state that Opel Team Unlimited are always welcome to any event that VxON attend, we'd love to see you over here again, hopefully with better weather.
To follow on that note I'd like to see if we can get a small group of people together to return the favour to OTU, and to head over to Belgium in 2010 to their annual meeting, even if it's a small group of 4 or 5 cars, I'd like to make the effort to go over there, as they have with us.
And finally, to say that it is with regret that the promise for this event, that we would once again have a decent size, and creative stand could not be met. We have spent weeks preparing for PVS, and trying to make sure we got this event right, and to make our stand a genuine contended of best stand. With the oldies coming over from Belgium and the diversity we had at this event we had high hopes for it, but sadly all plans went out the window the moment the weather turned on us. Our feedback on the discontent of the grass stands feeling secluded from the tarmac stands, and the almost complete lack of investment that we could see on drainage and access roads will be passed onto the organisers in HOPE that they can take steps to resolve this issue, not only for PVS or Vauxhall shows, but for any shows that use that venue. This is England, and we are renowned for our poor weather even in the Summer. For a venue as large as Santa Pod to turn a blind eye to what we consider shockingly obvious flaws in the way the area is used for shows of this size and popularity is simply unacceptable whatever the entrance fee may be. You can be assured this feedback WILL be passed onto the event organisers.
Once again, myself and Nick would like to thank all of you for coming, and we hope that you will continue to stick with us through rain and shine, and that this will not put you off future shows.
Many, many thanks!