Discussion Starter
•
#1
•
Well, i've not been on for a while as i've been stupidly busy the last few months and haven't done any car related playing... However things are calming down now so i've got myself a little toy.. (apologies for the crap phone pic, will get some better ones when it arrives.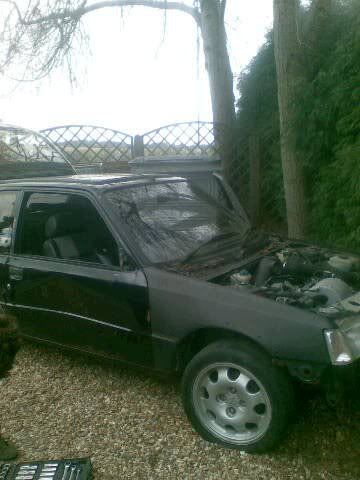 It's not quite as bad as it looks:lmao:
It's a 1989 pug 205 1.9 GTI with 81K on the clock which has been in storage for 5 years. It starts and runs niceley and the shell is solid (even under the back seats which is where these go) All of the missing bits come with the car. The plan is to refit the panels (i've located some doors and a bonnet in good nick in the right colour so they are going on) fit new wings and have them painted, replace all of the brake lines, the cambelt, water pump, discs and pads, (suspension is all new already), oil, filters, coolant hoses (rad is new), tyres and battery and then enjoy/refine as I go along.
Budget in total is £1K which i'll tally up as I go along.
More pics soon hopefully when I have arranged to have it taken to my house