Discussion Starter
•
#1
•
Do you want to utilise Hydraulic Lifters on your Bonnet?
Like me, do you think the eBay Special "Chrome" Ones are a tad Gay?
If you answered yes to both of these Questions, then GM Omega Bonnet Lifters could be the Answer!!
I was scouting around my local Scrappy, and saw these fitted on an Omega (funnily enough...), and thought to myself "They would work on my car, and they aren't chrome..."
The only difference i can see between these and the eBay specials is that they are larger, and have a base plate instead of 2 Ball Mounts, so in my eyes, a tad more stable.
Also, you are likely to get these cheaper than a set from eBay or your local "Modifying" shop...
And also, they arent Gay Chrome...
**These were fitted to my car by myself over a year ago, with no trouble since, the guide has been done due to a few people asking how i did it, so i removed and refitted one side for this guide to be composed (which would explain why some holes are already there in pics after saying to drill holes...)**
**Firstly, this was done on my Cavalier, so this guide definitely covers these models. The principle will be the same to other models, but i cant guarantee all steps are possible on others...**
Firstly, get your kit from an Omega (Pictured is only one side's worth...)
For
each side
you should have -
1x Ball Bolt (as i call them...)
2x TORX Self Tapping Bolts
1x Hydraulic Ram
1x Ball Clip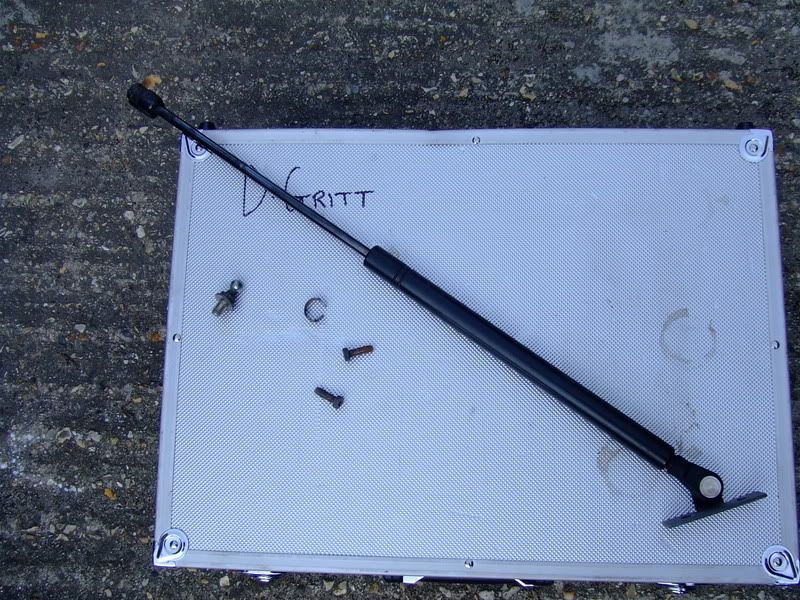 (WORK ON ONE SIDE AT A TIME!!)
To start, you need to remove the top bolt from the bonnet end of the hinges, you then need to tap the thread to an M8 (to fit the Ball Bolt), making sure you use a lot of lubricant... (hehe... no seriously, its tight, and there is risk of snapping a Tap if you dont take care, you may need to drill the hole a tad larger before tapping...)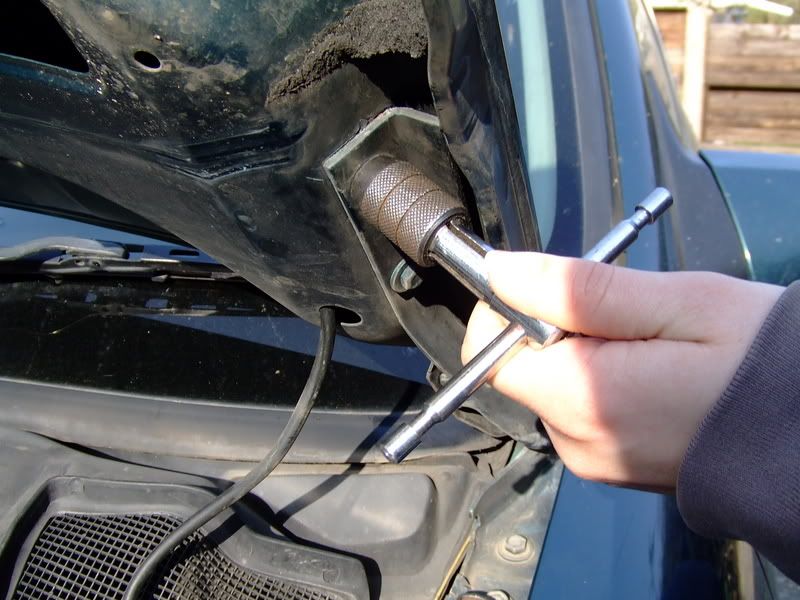 Then fit the Ball Bolt to the newly tapped hole, this will also secure the bonnet to the hinge, just like the bolt you removed did.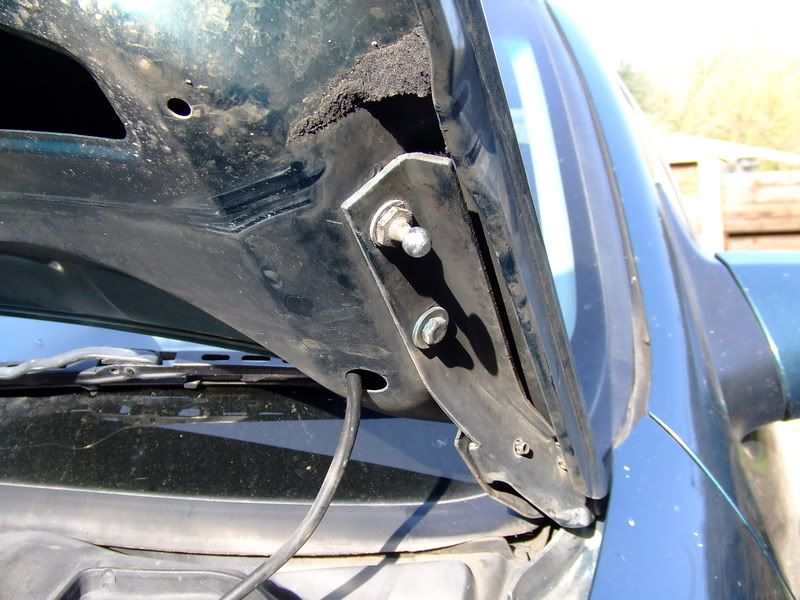 Then, with the Ball Clip removed from the ram, sit the end on the ball to find a location to fix the mounting base.
I found that the 7th bolt from the Windscreen is the best location, so wedge the base against the washer, as i have in the pic below, then, (you will need both hands) push the risen end of the Base down flat with a screwdriver, and use your free hand to mark the centre of the first mounting hole. (or Start to drill to mark the position) Then you can either emove the ram or drill while it is in position to be able to get a bolt in there-
use a drill between 5mm and 5.5mm, no larger or the bolt will not have anything to tap into!)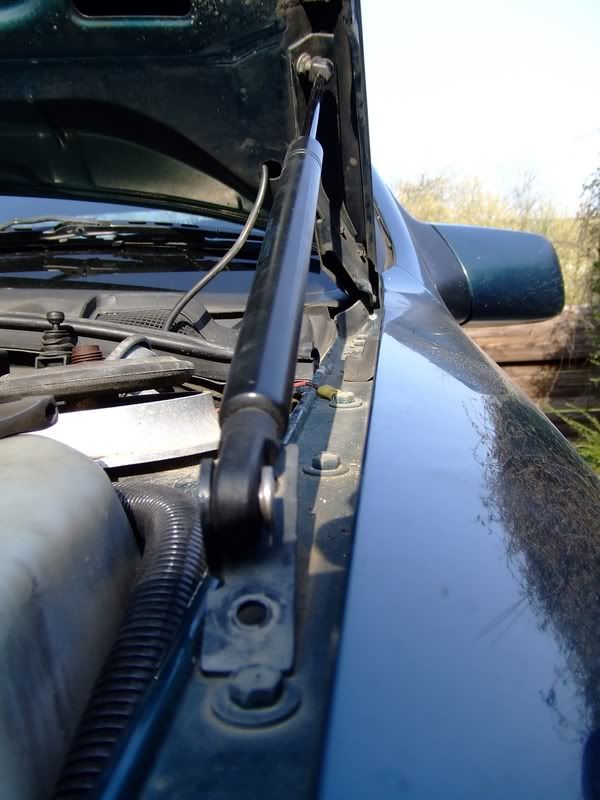 Then, with a bolt in the first hole (started, does not need to be tight yet), release the ram from the ball bolt, and mark/drill the second hole, then fit the bolt, and tighten both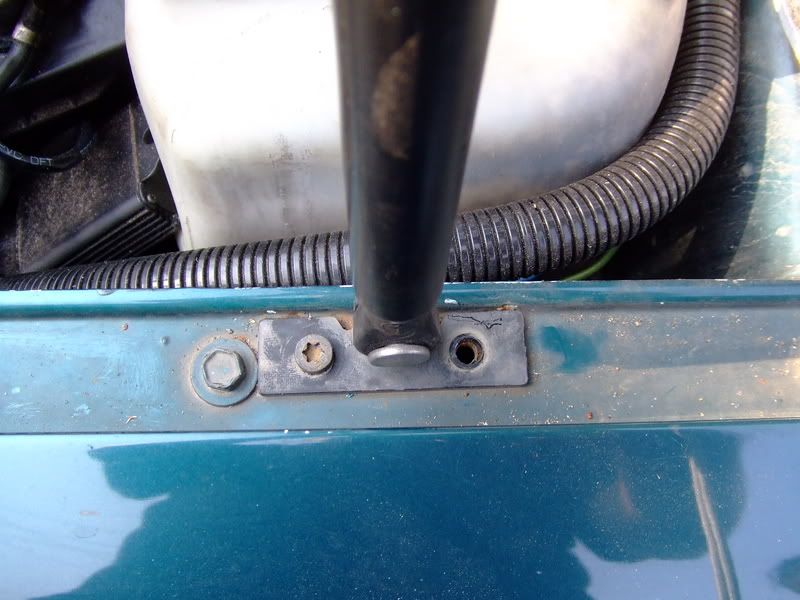 Then, Sit the Ball Clip on the end of the ram, but not fully in position, ready to offer up the end of the ram to the ball bolt